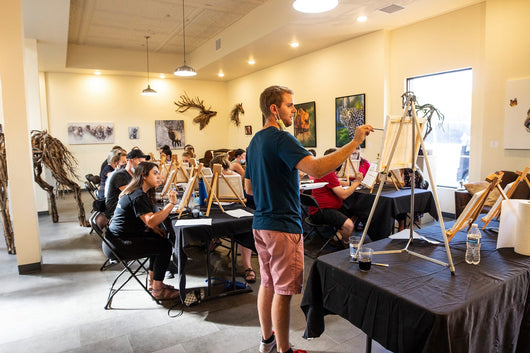 Painting Workshop Tickets
Regular price $300.00 Sale
The Gallery is happy to announce we will be holding a
three-day painting workshop in June!

This workshop will be taught by James.
Class size is limited to 10 in order to provide a
personal and instructional experience.  The workshop will include
instruction in oil painting with specific attention given to
painting wildlife including brushwork and detail techniques. 
The creation of composition, drawing anatomy accurately,
color mixing and values will also be covered in this in depth workshop. 
In addition to art instruction there will be discussion of
conducting business in the art world. 


Our Painting Workshop will be held on June 28th, 29th and 30th 
from
1PM - 5PM

 
at Corwin Galleries.
Attendees are encouraged to bring wildlife ideas/photographs of their own to create from.
ONLY 1 SEAT LEFT!
*Tickets are non-refundable/non-transferrable*
Corwin Galleries
315 West Main Street in Hamilton.