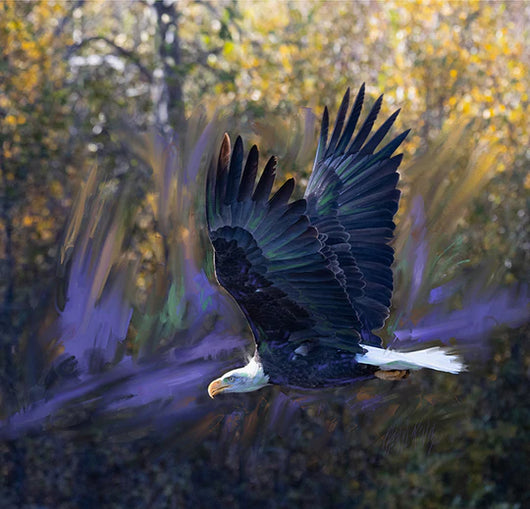 Bald Eagle - Digital Hybrid
Regular price $325.00 Sale
Digital Hybrid

Cheryl King
20x20
Cheryl captured this Bald Eagle in flight as she floated down the Chilko River in British Columbia. She was visiting the area to photograph grizzlies but as the drift boat came upon a natural dam in the river she spotted this eagle resting in the sunshine. Naturally it took to the air as she approached and spread its massive wingspan in glory. 
Metal is the perfect surface to showcase Cheryl's digital hybrid paintings giving them a sleek modern touch! Images are infused onto the surface of aluminum that has been treated with a special dye sublimation coating. Lightweight and easy to display, these prints are certain to add panache to your home! 
Features a glossy finish coating and rounded edges (contact me if you prefer satin or matte finish)
UV resistant ink prevents fading
Shadow mounted and ready to hang
Definition of a Digital Hybrid Painting:  A photo Cheryl has taken that she digitally paints, creating a piece of art that is part photo/part painting.